When the 18-year-old Harry Kane had a penalty saved on his Tottenham debut, nobody would have imagined him putting away 39 spot-kicks for the club on the way to beating Jimmy Greaves' record goals haul.
Here we are, though, almost 11 and a half years on from that miss against Hearts in a Europa League qualifier, and Kane is Tottenham's outright all-time leading scorer.
Goal number 267 arrived against the reigning Premier League champions Manchester City on Sunday, his 200th goal in that competition.
Drink that in for a moment. It's an astonishing feat. Kane has earned the club record by chipping away at Greaves' mark in the Tottenham teams of Harry Redknapp, Andre Villas-Boas, Tim Sherwood, Mauricio Pochettino, Jose Mourinho, Ryan Mason, Nuno Espirito Santo and Antonio Conte.
Kane has seen some extreme turbulence at Spurs and ridden it out every time, relishing those fleeting moments of stability that have broken out occasionally, too, and even the occasional 'glory, glory' moments.
Personal accolades and honours have been many and frequent; there have been no trophies for Tottenham, though.
Here, Stats Perform looks at how Kane overcame a false start, and everything else that comes with playing for the perennially under-achieving north London giants, to become Tottenham's goal king.
200 - Harry Kane is the third player to score 200 goals in the Premier League, after Alan Shearer (260) and Wayne Rooney (208). Kane scored his 200th goal in his 304th game, fewer than both Shearer (306) and Rooney (462). Illustrious. pic.twitter.com/NfWXhVWXVt

— OptaJoe (@OptaJoe) February 5, 2023
Is he really in the same league as Greaves?
This is simple enough to answer. Greaves hit 266 goals in 379 games for Spurs, from 1961 to 1970, while Kane brought up number 267 in his 416th outing. So you can split hairs, but essentially there is precious little difference between their magnificent strike rates.
Kane's in the Greaves class, make no mistake. Right up there. Remember, his first Spurs games were as a raw rookie, whereas Greaves began his White Hart Lane career as the finished article, having already sizzled for Chelsea before a brief stint in Milan, so he hit the ground running: a hat-trick on debut against Blackpool was evidence of that.
Greaves plundered 37 goals in the 1962-63 First Division for Spurs, setting a club record that stands to this day.
Kane topped 20 league goals for four consecutive seasons from 2014-15 onwards, culminating in a 30-goal campaign in 2017-18, his best Premier League return. It was a 42-game league season in Greaves' era, rather than the modern-day 38 games.
That 2017-18 campaign saw Kane storm to 41 goals when all competitions were taken into account, at a rate of 0.93 goals every 90 minutes (0.88 per 90 minutes in the Premier League). He went on to win the World Cup's Golden Boot at the end of that campaign. Peak Kane was spectacular. Peak Kane might have passed, but the current variant still takes some stopping.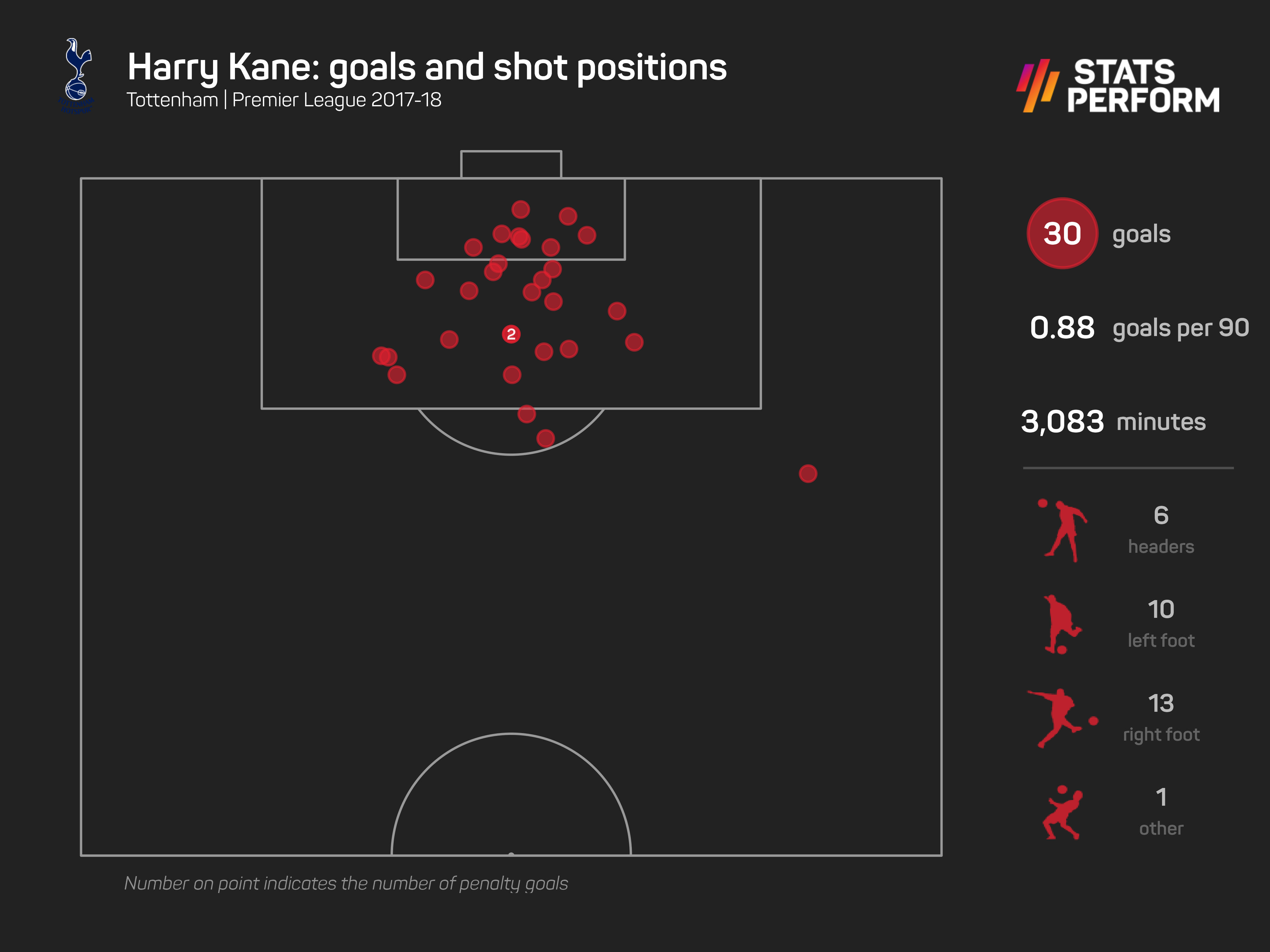 But what about the trophies?
Those wanting a stick with which to beat Kane might point to his goals having brought Tottenham no tangible reward for the trophy cabinet. And, no, Premier League Player of the Month awards and domestic Golden Boots (three – 2015-16, 2016-17 and 2020-21) really don't count when it comes down to the serious totting up.
Yet it surely makes Kane's achievement all the more remarkable, for him to be so relentlessly prolific in a team who so often come up short as a collective. He is the constant, the startlingly reliable mainstay. When a rare personal dip in fortunes did come early last season, after Kane saw the prospect of a move to Manchester City slip away, he climbed out of his rut and finished the campaign with 27 goals.
His shot conversion rate of 16.07 per cent in 2021-22 was the lowest it had been since 2015-16 (14.58 per cent), but this term it stood at an improved 18.18 per cent before the visit of City.
Greaves joined Tottenham from Milan for £99,999 just months after they peaked with a domestic double under Bill Nicholson's leadership, and he never did win a First Division title with Chelsea or Spurs.
He did, however, lift the FA Cup twice with Tottenham, in 1962 and 1967, and the European Cup Winners' Cup in 1963. Kane continues to pan for such gold, even with the Champions League places today regarded by some as carrying equivalent if not greater weight than a domestic cup victory.
The top-four theory might be one for the bean-counters, but at pitch level the cup trophies remain a highly prized commodity. It is little wonder Kane's head was turned by City's interest. He knew he could have been a serial winner.
HARRY KANE, HE'S ONE OF OUR OWN

— Tottenham Hotspur (@SpursOfficial) February 5, 2023
What next in the evolution of Kane?
Tributes to Greaves, when he died in September 2021, pointed to how he modified his game as defences got wise to his talent and more astute overall.
It was said Greaves became a greater penalty area predator later in his career, rather than relying on his tremendous pace and dribbling to make chances himself.
We might look at Kane and think a similar transformation is happening.
Seven of his 19 goals this term have been headers, compared to seven of 41 goals five seasons ago, and he is not dribbling at defenders and shooting as often as before.
In terms of Kane having the ball in his possession and taking on defenders before shooting, he attempted 25 such manoeuvres in 48 games in 2017-18, but before taking on City on Sunday he had only four take-ons in 29 matches in the 2022-23 campaign. Last season it was seven in 50 games, a similar ratio.
Like Greaves before him, and even Cristiano Ronaldo, Kane has lost some of that youthful energy but found ways to still enjoy immense success in the 18-yard box as his career advances.
With Kane, focusing his energies in and close to that zone is also helping others.
Kane had 28 assists for Tottenham in his first 287 games for the club, but he has totted up a further 30 since the beginning of the 2020-21 season. This is the mark of a player still developing, still learning where his limits lie, all the while looking to persuade Spurs colleagues they can follow his example, to convince them they might one day get their hands on some silverware.