With the last international window of the season over, domestic club campaigns now enter the final straight.
Everything is still to be decided – technically speaking. Title races, European qualification, relegation – all will come to a head over the next two months.
Of course, there are a few outcomes that already look like foregone conclusions, but there's still much to play for in each of the top five leagues.
With club football returning over the next few days, Stats Perform's Artificial Intelligence team have crunched the numbers using their supercomputer to predict the outcome of each league.
How's the outlook for your team?
Premier League
England is the scene of potentially most compelling title race among the top five leagues this season.
Arsenal may have an eight-point lead at the summit, but Manchester City still have a game in hand. As such, the Gunners' chances of winning a first league title since 2004 are 56.2 per cent, perhaps smaller than many might have expected.
That comes down in part to the statistical value attached to City's historic results, particularly over the past few years during their Premier League domination, whereas Arsenal haven't come close to that level of success over the same period.
Therefore, the title race still looks tight.
A little further back, Manchester United (74.5 per cent) are near-certainties to finish third, while the race for fourth promises to be engrossing – Tottenham (19.3 per cent), Newcastle United (29.1 per cent) and Liverpool (24.5 per cent) look set to tussle it out, with Brighton and Hove Albion (10.7 per cent) considered rank outsiders.
At the bottom, Southampton's 41.6 per cent likelihood of finishing 20th suggests they've a huge battle on their hands, but the supercomputer reckons West Ham and Leicester City have enough to pull themselves clear of the drop zone.
The signs are that two of Bournemouth, Everton and Nottingham Forest will join Saints in the Championship.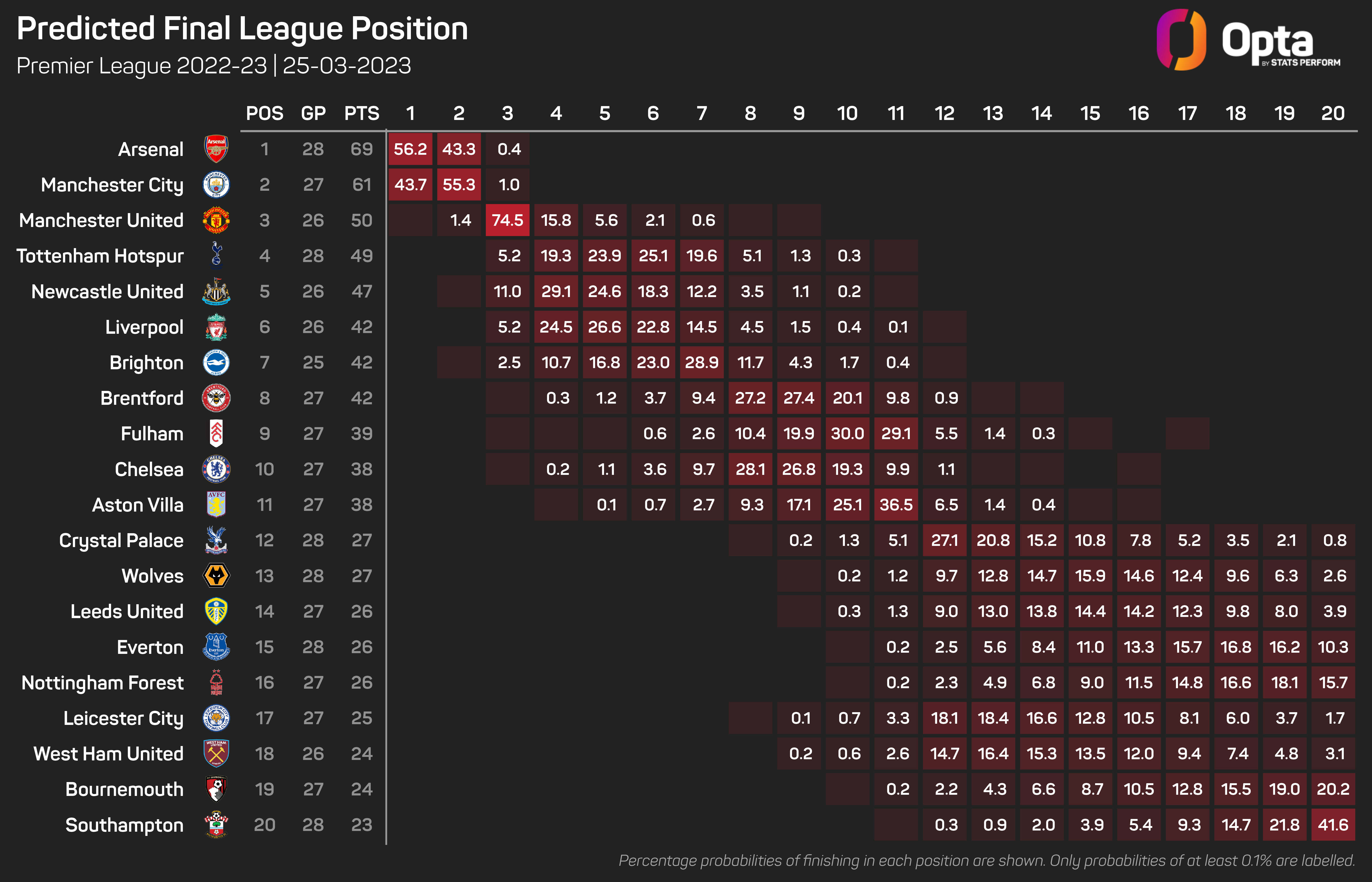 Bundesliga
Germany's top flight may come to rival the Premier League's title race. Ahead of the weekend's Klassiker between Borussia Dortmund and Bayern Munich, BVB are a point clear.
Yet, Dortmund's probability of finishing top is just 22.4 per cent compared to Bayern's 76.4. Again, it largely comes down to their historic results and Die Roten's dominance suggesting they'll eventually get the job done.
But it's fair to say Bayern's decision makers aren't so confident given their brutal choice to sack Julian Nagelsmann on Friday, replacing him with former Dortmund coach Thomas Tuchel.
Union Berlin aren't out of it given they are only five points behind Dortmund, though this is obviously uncharted territory for them, hence the 0.9 per cent chance of winning their first top-flight title since 1923.
Third looks the best bet for them (40.3 per cent), while RB Leipzig are the most likely to fill out the top four (37.2 per cent).
It's even tighter in the relegation scrap. Only seven points separate 18th from 13th, so even rock-bottom Stuttgart are given a reasonable chance of finishing 14th (10.6 per cent) or 15th (15.2 per cent).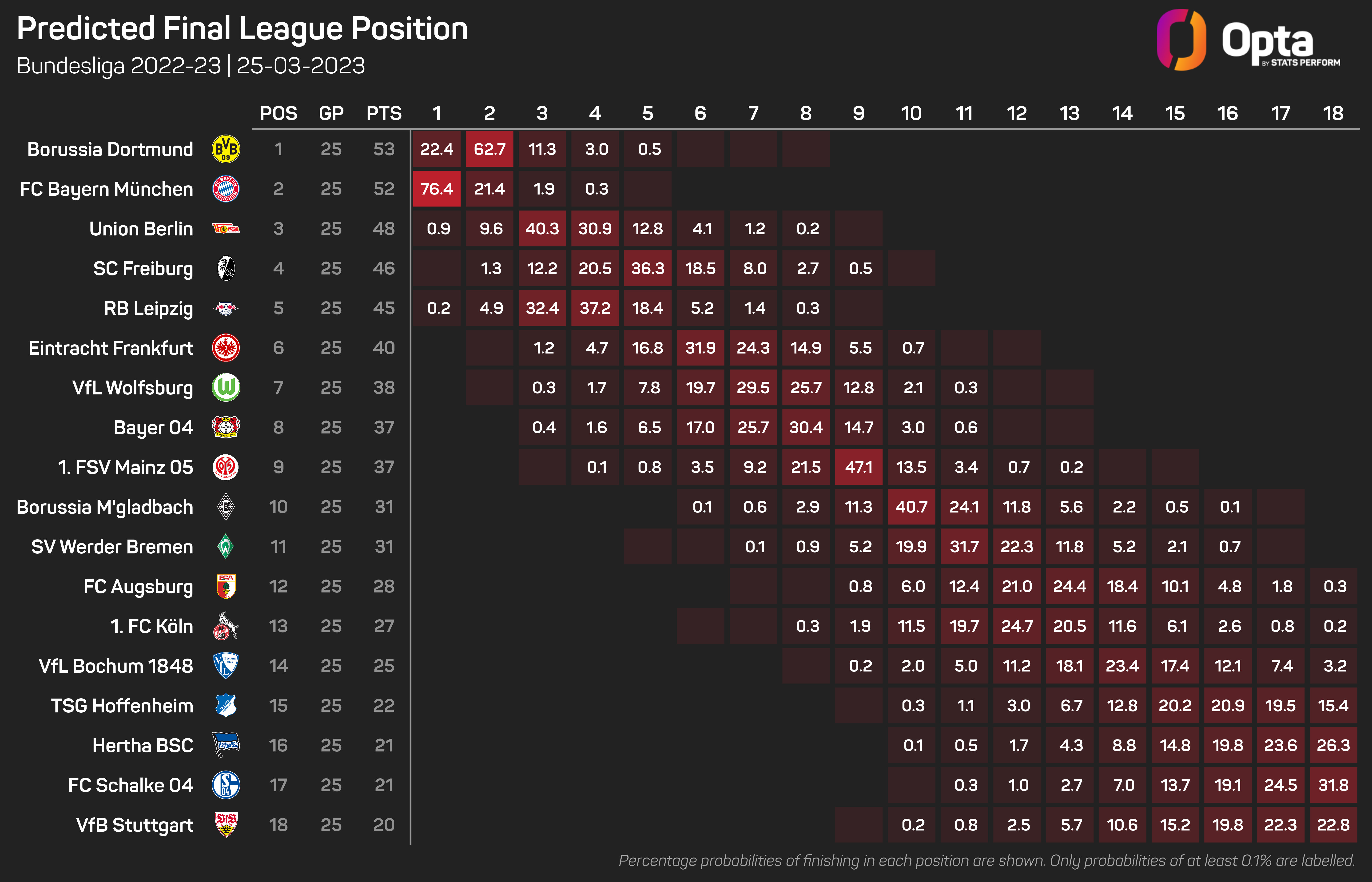 LaLiga
Following Barcelona's dramatic 2-1 win in El Clasico before the international break, LaLiga looks done and dusted at the top with the Blaugrana 12 points clear.
The supercomputer also reckons Atletico Madrid are nearly guaranteed third (80.3 per cent), leaving what is effectively a two-horse race for fourth.
Real Sociedad have fourth at the moment and are 43.7 per cent likely to finish there, though Real Betis (36.7 per cent) aim to push them all the way.
At the other end, Elche are given no more than a 0.1 per cent chance of getting out of the bottom three after taking just 13 points from 26 games.
Otherwise, relegation is difficult to call. Almeria in 19th are only six points behind Real Mallorca in 11th, meaning there are a host of clubs who could yet get dragged into a fight for their lives.
There are two particularly big names among those potentially in trouble. Valencia are in the bottom three and have a 21.9 per cent chance of being relegated, while Sevilla – who are on their third coach of the season after sacking Jorge Sampaoli – are only two points clear of safety.
The computer says Man Utd's next Europa League opponents only have a 5.8 per cent probability of going down, however.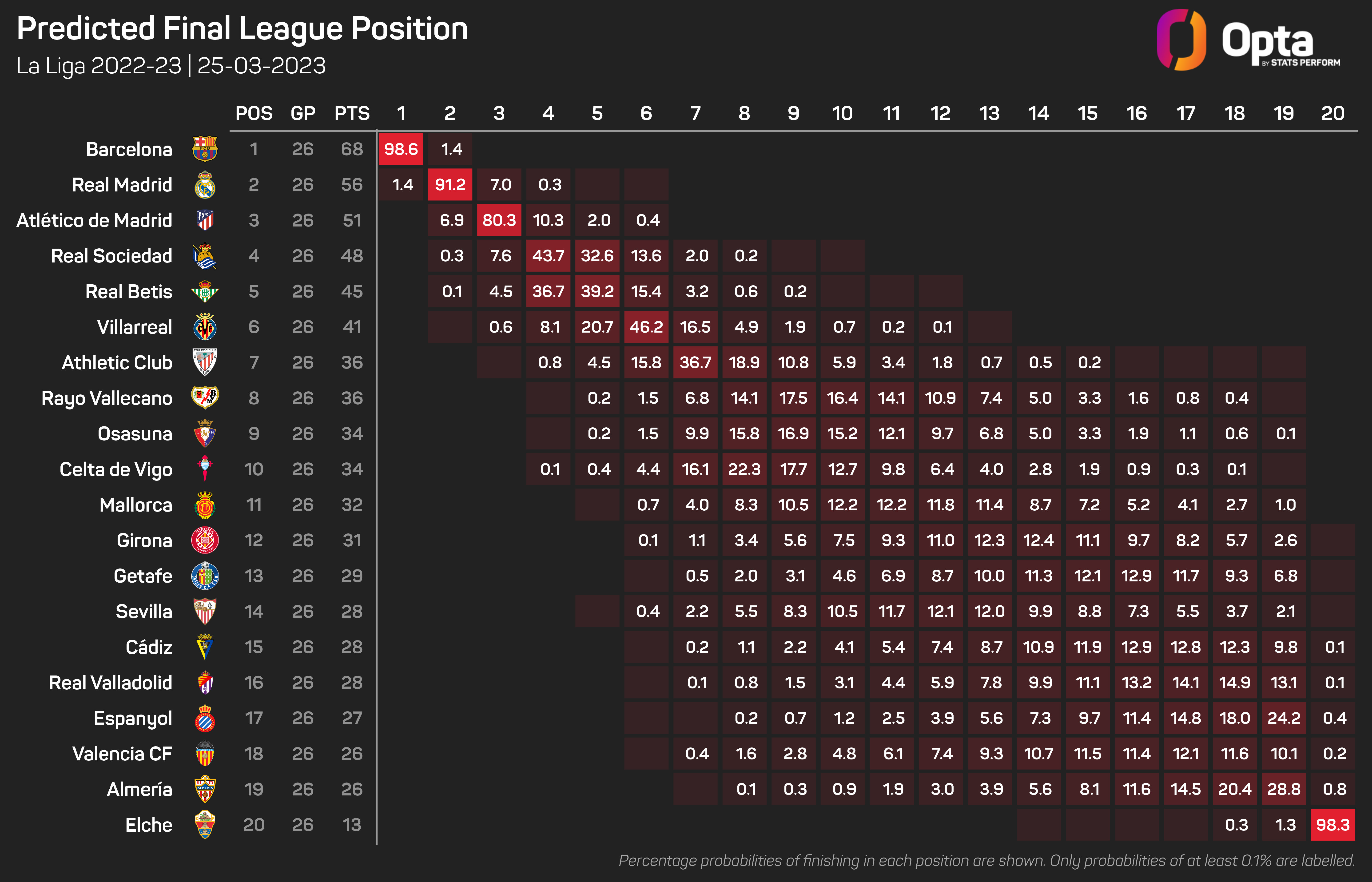 Ligue 1
Paris Saint-Germain seemingly have little to worry about in Ligue 1, with the supercomputer calculating their title chances at 98 per cent.
The tiny hint of doubt gives Marseille (1.8 per cent) and Lens (0.2 per cent) a bit of hope – but even then, it's presumably nothing more than a pipe dream.
There is a similar degree of certainty at the bottom, where four teams will be relegated ahead of the league's size being reduced to 18 clubs next term.
Angers, with 10 points from 28 games, cannot get out of the bottom four according to the calculations, and the other three positions are currently taken up by Ajaccio, Troyes and Auxerre.
Brest and Strasbourg aren't out of the woods yet either, though the supercomputer believes those in the relegation zone are the ones most likely to drop into Ligue 2.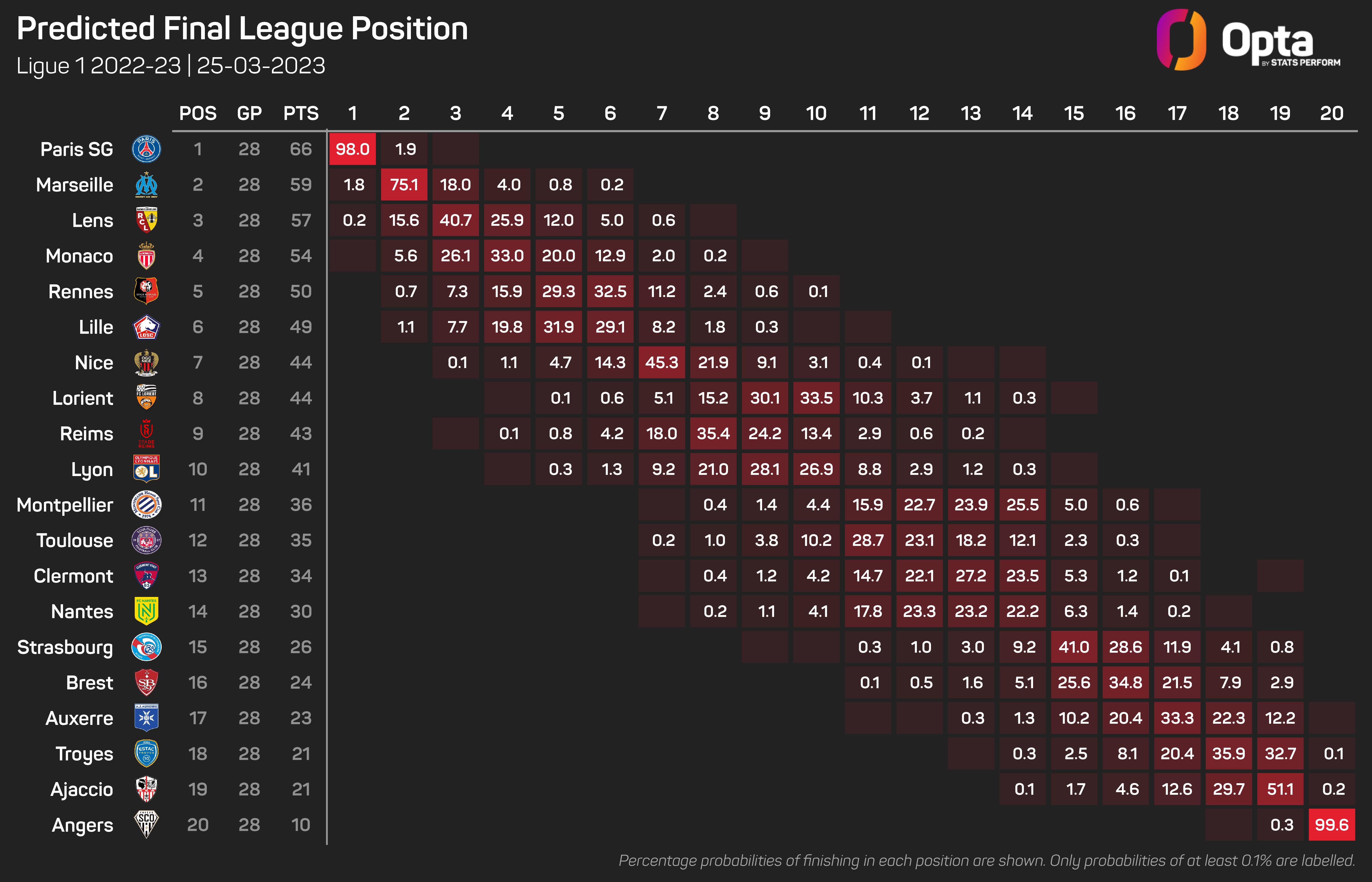 Serie A
If there's one league in Europe that's got a foregone conclusion at the top, it's Serie A.
Napoli have more than a 99.9 per cent chance of winning a first Scudetto since 1990, with the unrelenting Partenopei a whopping 19 points clear of second already.
The race for Champions League qualification promises to be a little more tense.
Eleven points is the gap between Lazio in second and Juventus in seventh. While the Bianconeri are very much outsiders, the other five teams have at least a 15 per cent chance of finishing in the top four.
Lazio, Inter and Milan appear to be the most likely to take those spots, though Roma and Atalanta will fancy their chances of putting a cat among the pigeons.
In the relegation fight, there's a rather clearer picture.
Cremonese and Sampdoria look doomed, while Hellas Verona in 18th are five points adrift of safety, giving them just an 18.8 per cent probability of avoiding relegation.